Deep Dish Pizza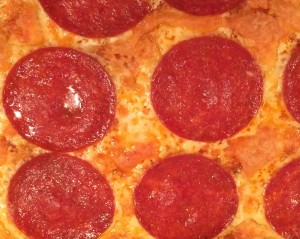 4 oz cream cheese
3 eggs
¼ cup parmesan cheese
⅓ cup heavy cream
¼ cup tomato sauce
2 cups shredded Italian cheese blend (5 or 6 cheese blend)
1½ cups shredded mozzarella cheese
20 slices pepperoni
½ tsp oregano
¼ tsp garlic power
Bring cream cheese to room temperature to soften it.
Preheat oven to 375.
Blend together the eggs and cream cheese until smooth.
Blend in heavy cream, parmesan cheese, tomato sauce and spices.
Pour the Italian cheese blend into a 13x9 inch baking dish or pan that has been greased with olive oil.
Add the egg mixture to the pan and blend the cheese so it's suspended in the mixture and not concentrated on the bottom of the pan.
Bake for 25-30 minutes and remove from oven to add layers of mozzarella and pepperoni. Bake for 10 more minutes until bubbly and brown.