Raspberry Slushie - Two Ways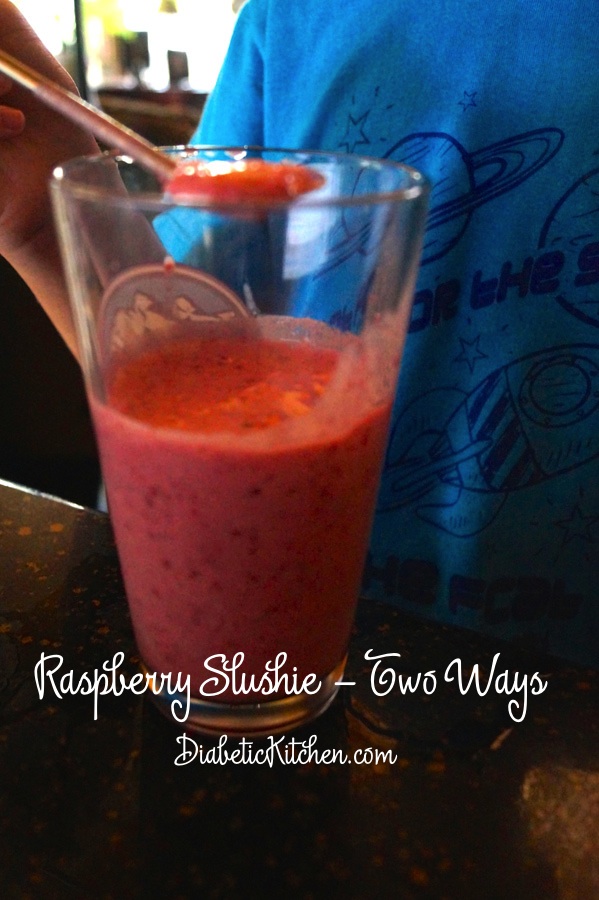 Author:
DiabeticKitchen.com
Recipe type:
Drink - Treat
1 cup ice
½ cup raspberries, frozen
¼ cup milk
1½ TBL. Greek Yogurt (Trader Joes)
8-10 drops Stevia Extract Liquid
Place all ingredients in a Vita Mix or similar blender and process. Taste and adjust the sweetness if so desired.
Please note that the Carbs, Fiber and Sugar are all coming from the raspberries in the Icy version.
I made this on request from grandson Tommy. He wished I could make a slushie and of course those are laden with sugar. I decided to try with raspberries in my freezer. I made his without the milk and yogurt and he loved it. Which is not considering the alternative! I decided to make it creamy for a little more health benefits. So make it either way.

I also learned that blending more is best to get that crushed ice texture. My first go round wasn't as slushie as the ones I make now.

NUTRITIONAL INFO:
Creamy: Calories 56 |Fat 3g |Carbs 6g |Fiber 2g |Sugars 4g |Protein 2g
Icy: Calories: 17.5 |Carbs 4g |Fiber 2g |Sugar 1g
Recipe by
Diabetic Kitchen
at https://diabetickitchen.com/raspberry-slushie-two-ways/