Slow Cooker: Smokey Collard Greens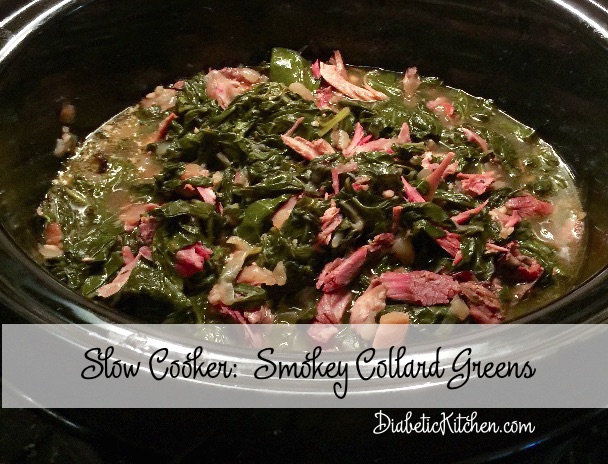 Author:
DiabeticKitchen.com
2 Greenburg smoked turkey drumsticks
5 pounds collard greens (about 6 large bunches)
2 tablespoons olive oil
2 medium yellow onions, medium dice
6 medium garlic cloves, finely chopped
¼-teaspoon cayenne pepper
2 cups low-sodium chicken stock
1 tablespoon plus 2 teaspoon Bragg's apple cider vinegar (divided)
½ teaspoons kosher salt, plus more as needed
¼ teaspoon freshly ground black pepper, plus more as needed
Vinegar or hot sauce for serving
Rinse collard greens and pat dry.
Prep the onions and garlic cloves. (Or clean and dry overnight on towels.)
Measure chicken broth. Add cayenne pepper to the broth. Set aside
After you have cleaned the collard greens it's time to remove the stems. With a knife trim the tough stems from the leave. Discard the stems. Place the trimmed leaf in a pile. Once you have a pile, cut into 1-inch strips, then cup down the center of the strips to cut in half. Set aside.
Heat the olive oil in a large, wide-bottomed pot over medium heat until sizzling. Add the onion, garlic, season with salt and pepper. Cook, stirring occasionally, until the onion has softened, about 4 minutes.
Increase the heat to high, add the stock mixture, stir to combine, and bring to a boil.
Add half of the greens. Stir. As they start to wilt add large handfuls at a time. Continue adding until all the greens are in the pot. Stir and continue cooking until they are almost completely wilted. Now they will fit in the slow cooker.
Turn off the heat and add 1 tablespoon of the vinegar. Stir to combine.
Transfer a layer of greens mixture to the slow cooker. Place the turkey legs on top. Place the rest of the greens mixture over the top of the turkey legs.
Cover and cook until the greens are very tender. This will take about 4 to 5 hours on high or 6-7 hours on low.
Remove the turkey drumsticks to a cutting board. Some of the meat may fall off the bone. Wait for them to cool or carefully handle the legs, as they are hot. Remove the meat from the bones, shred or cut it into bite-sized pieces and stir it back into the greens. (Discard the skin and bones).
Add the remaining 2 teaspoons of vinegar and stir to combine. Taste and season with measured salt and pepper. Taste again. Season as desired.
Serve with additional apple cider vinegar or Crystals Hot Sauce.
NUTRITIONAL INFO
Calories 91 |Fat 4g |Carbs 5g| Fiber 2g |Sugar 1g |Protein 8g

DK NOTES
Read through the recipe. Gather your ingredients. Mise en place. A French culinary phrase, which means everything in place. Prep everything first before you begin because once you start cooking its pretty quick.
Recipe by
Diabetic Kitchen
at https://diabetickitchen.com/slow-cooker-smokey-collard-greens/