Smoked Bacon and Asparagus Popover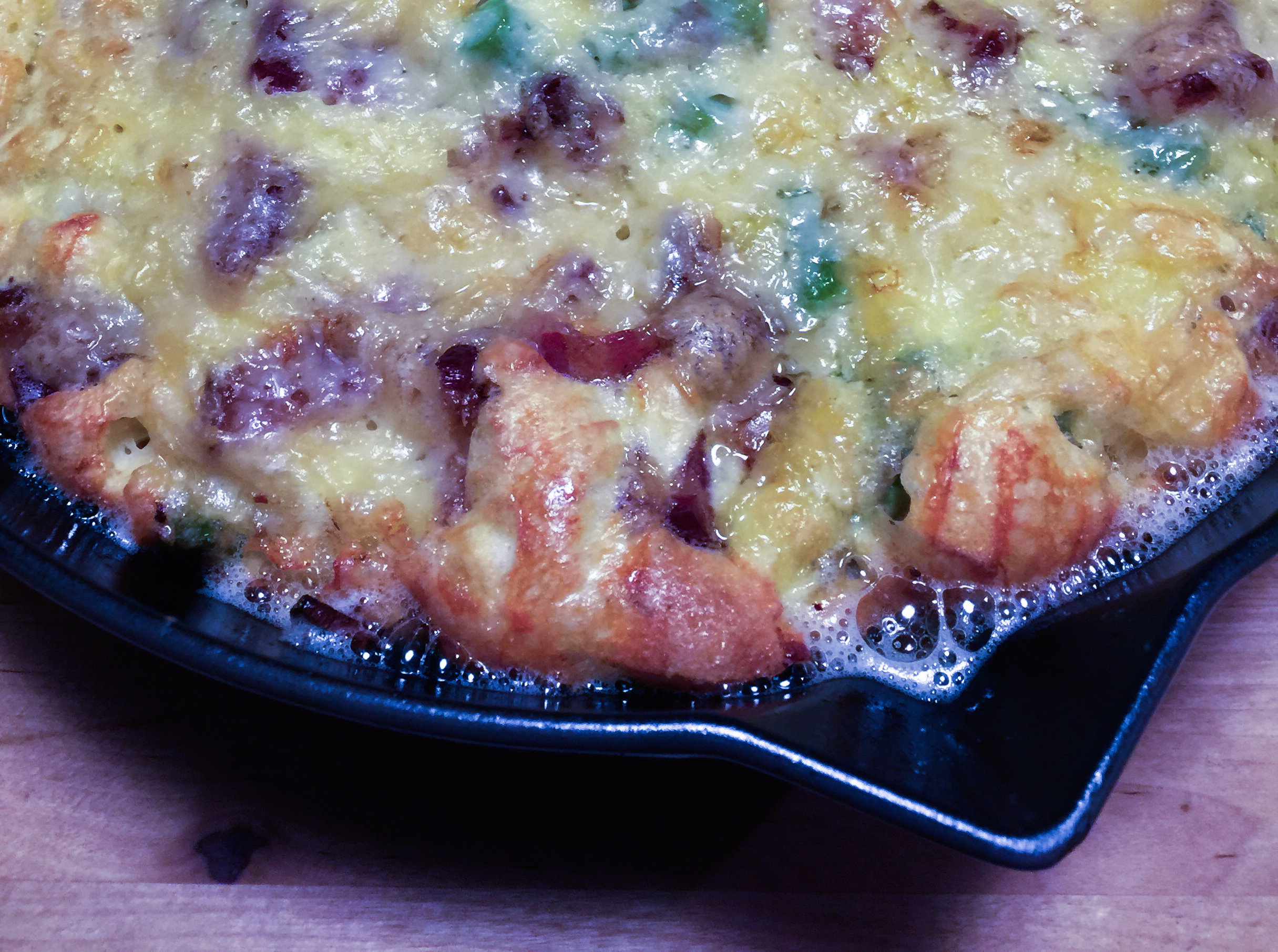 2 cups asparagus, trimmed and cut into 1 inch pieces
4 slices bacon, cut into 1 inch pieces
3 large eggs, room temperature
½ cup half and half, room temperature
½ cup gluten free flour
1 ¼ cup gruyere, shredded
1 leek, thinly sliced
1 tablespoon butter
salt and pepper to taste
Preheat oven to 425 degrees.
Mise en place. Prepare your ingredients. Cut asparagus, set aside. Slice leeks thin, set aside. Grate Gruyere, set aside.
Place 1 inch of water in a pan and bring to a boil. Add the asparagus and parboil until they turn bright green. Prepare ice bath. Remove the asparagus with a slotted spoon and place in an ice bath or run under cold water. Remove immediately and pat dry. Set aside.
Smoked bacon is key. Excellent smoked bacon! Cook the bacon in the cast iron skillet over medium heat that you will be using for the popover. Once cooked, set aside on paper towels to drain. Reserve the grease in the pan.
While your bacon is cooking, mix the half and half, eggs, flour, salt and pepper. Set the batter aside.
Add your thinly sliced leeks to the cast iron skillet with the reserved bacon grease. Saute until tender, they might be turning a little brown. After 2-3 minutes, turn the heat off and set the pan to the side.
Add the butter to the cast iron skillet with the leeks and let it melt.
After butter has melted, add the egg batter to the pan.
Now sprinkle the asparagus, smoked bacon and the cheese over the batter in the cast iron skillet.
Place the skillet in the preheated oven and bake until it is puffy and golden brown. This will take 18-20 minutes.
Serve with side salad.
NUTRITION INFO
Calories 188 |Fat 13g |Carbs 9g |Fiber 2g |Sugar 1g |Protein 10g

DEFINITIONS:
Parboil: The food items are added to boiling water and cooked until they start to soften, then removed before they are fully cooked. Parboiling is usually used to partially cook an item which will then be cooked another way.

Mise en place (French pronunciation: [mi zɑ̃ ˈplas]) is a French culinary phrase, which means "putting in place" or "everything in its place."
Recipe by
Diabetic Kitchen
at https://diabetickitchen.com/smoked-bacon-and-asparagus-popover/