Who doesn't love to sit next to the fire with a mug of hot chocolate on a chilly night? Well, what we would consider a tempting treat, may be better for your health than you think!
The health benefits of cocoa include relief from high blood pressure, cholesterol, constipation, chronic fatigue syndrome and various other illnesses.
Cocoa can quicken wound healing, and help to improve cardiovascular function and brain health.
It also possesses mood-enhancing properties and is rich in minerals such as iron, magnesium, calcium, zinc, and potassium.
Cocoa has also been shown to improve insulin resistance and help the body metabolize glucose. The antioxidant component of cocoa has been found to battle free radicals, reducing cell and tissue damage.
Research has suggested that cocoa's flavanols (phytonutrients with antioxidant properties) may contribute to maintaining a healthy brain. These protective benefits could also positively affect learning and memory functions.
Findings have also found that cocoa-based products enhance the flow of blood to the brain and have been shown to help improve the effects of cardiovascular disorders.
With all of these benefits, could chocolate soon be considered a health supplement?
A study by Harvard Medical School said the benefits of the compound, Epicatechin, a compound which occurs naturally in cocoa beans, could prove "as important to medicine as penicillin or anesthesia."
Professor Hollenberg, director of the study, said the health benefits of the chemical, which is also found in tea, wine, some fruit and vegetables, could be enormous.
He added: "If these observations predict the future, then we can say without blushing that they are among the most important observations in the history of medicine."
Are you ready to drink your hot chocolate now? With so many options, which one should you choose?
Eat This Not That surveyed consumers and compiled this listing of hot chocolates in an attempt to find the best.
The top 5 winners were: Silly Cow Farms Hot Chocolate, Ghirardelli Drinking Chocolate Drops, Swiss Miss Simply Cocoa, Starbucks Hot Cocoa Double Chocolate, and Dagoba Organic Chocolate.
Taste and texture were two important points according to survey participants. Reviews of the above popular varieties were filled with phrases like "chocolate heaven" and "smooth, velvety consistency."
Sounds delicious, right?
Now before you run off to the store to stock up on the above brands, let's take a look at how these choices may impact your blood sugar. 
Silly Cow Farms – 80 calories, 1 g fiber, 14 g sugar
Ghirardelli – 70 calories, 1 g fiber, 6 g sugar
Swiss Miss- 100 calories, 1 g fiber, 13 g sugar
Starbucks – 120 calories, 3 g fiber, 17 g sugar
Dagoba – 90 calories, 4 g fiber, 13 g sugar
While these 5 varieties got good reviews, they certainly aren't going to do your blood sugar any favors. With high sugar contents, low fiber, and high calories, these are not the healthiest ways to drink your chocolate.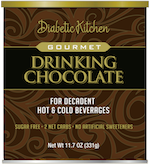 However, there is a new player in the game that does fit the bill. Forget having your cake and eating it, too; now you can have your chocolate and drink it, too!
Diabetic Kitchen Gourmet Drinking Chocolate is made with Bensdorp Royal Dutch Cocoa which has earned the title of "The World's Finest Cocoa."
With 35 calories, 8 g fiber, and 0 sugar it combines amazing taste and texture without raising blood sugar.
It is free of Sugar Alcohols, Aspartame, Sucralose, Chemicals, Fillers, Binders or Artificial Ingredients of Any Kind. It features 100% natural ingredients, is Gluten-Free and Soy-Free.
Click here to learn more!
While chocolate is still considered a treat, we are continuing to learn more about its positive effects. By choosing the right drinking chocolate, you can enjoy great taste and promote good health!
Sources:
www.organicfacts.net/health-benefits/other/health-benefits-of-cocoa.html
http://www.chocolatebysparrow.com/heath-benefits-of-cocoa-and-chocolate-2007/
http://www.eatthis.com/best-hot-cocoa