Can you even believe that!  When we first tried it we were amazed.  I am NOT an okra fan but realized it you really cook something low and slow it will break it down.  I have made this totally in the crock pot and just done the "roux" in the crockpot and finished it on the stove.  Company was coming and I didn't have the time to wait!  It's awesome either way!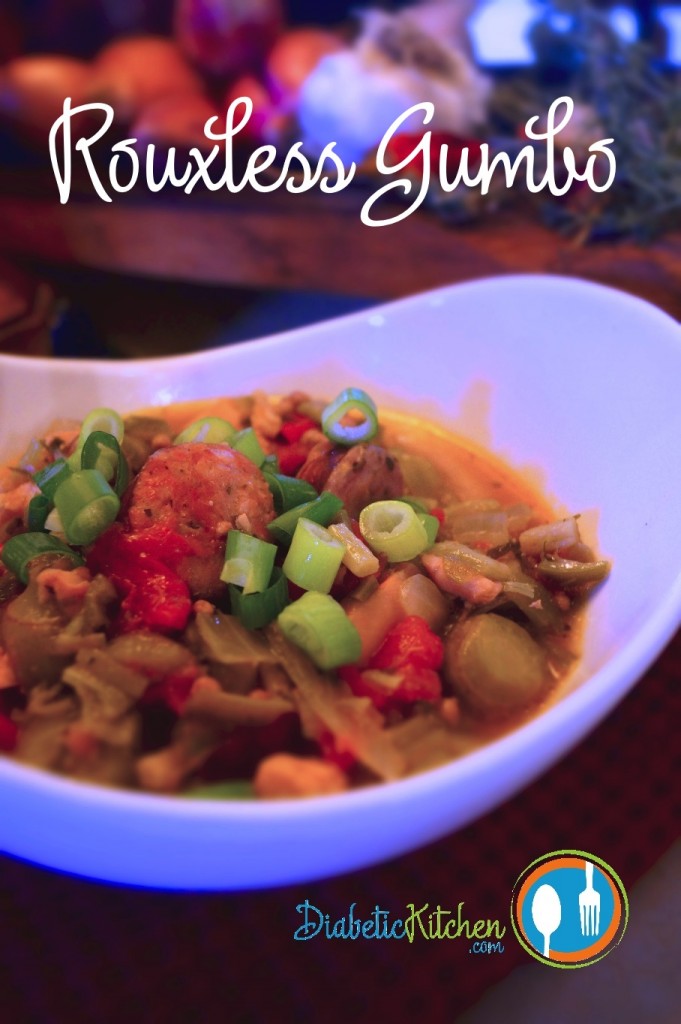 Oh yes … we have eaten rice with it too.  Just be sure you don't overdo it.  Basmati Rice is considered low glycemic.  For some reason we have gotten lower real readings with Jasmine Rice.  So pay attention to your body and what is happening inside you.  That is really what counts.

Rouxless Gumbo
This can be made started in the slow cooker and finished on the stove it you just can't wait!
INGREDIENTS
Night before:
2 lbs. Okra, chopped (fresh or frozen)
1 can (14.5 oz.) diced tomatoes
1 can (14.5 oz.) low sodium chicken stock
Morning:
2 pounds chicken thighs, cut into 1 inch cubes (use boneless and skinless)
2 pounds smoked sausage, cut into ¾ inch pieces
¾ cup onions, chopped
¾ cup red bell pepper, chopped
¾ cup celery, chopped
¾ cup Italian leaf parsley, chopped
24 oz. low sodium chicken stock
1 can Rotel tomatoes (mild)
Green onions, chopped for garnish
METHOD
Right before going to bed, place okra and tomatoes and 1 can of chicken broth in slow cooker and stir.
Cover and cook on low (6-8 hours).
Before going to work in the morning add chicken thighs, sausage, onions, red bell pepper, celery, parsley, 2 cans chicken broth and Rotel. Stir.
Cover and continue to cook on low for another 4 hours. It can stay on the warm setting until you get home. You don't want to keep cooking it or all your added veggies will be mushy.
If you use good smoked sausage, you will not need to add any additional seasonings.
Finish off with chopped fresh green onions.
DK NOTES
Prep all your veggies and meats the night before so your time in the morning is only about adding the items to the slow cooker.

NUTRITIONAL INFO
Calories 535 |Fat 33g |Carbs 11g |Fiber 4g |Sugar 3g |Protein 47g