No potato?  No problem!  Just wait till you try this.  It's perfect as your BBQ side. I was skeptical if it would work. But you will never miss potato salad again!
When my guest knows potatoes are rarely if ever on the menu and they walk in for July 4th lunch and said, "Oh, we have potato salad?",  you know it passes the vision test!   Check!   After the first bite Tori remarked,  "It's just like potato salad.  yum, it tastes like fourth of July."  So it passes the taste test too!  Check!
… and Vic's smoked ribs were kinda awesome!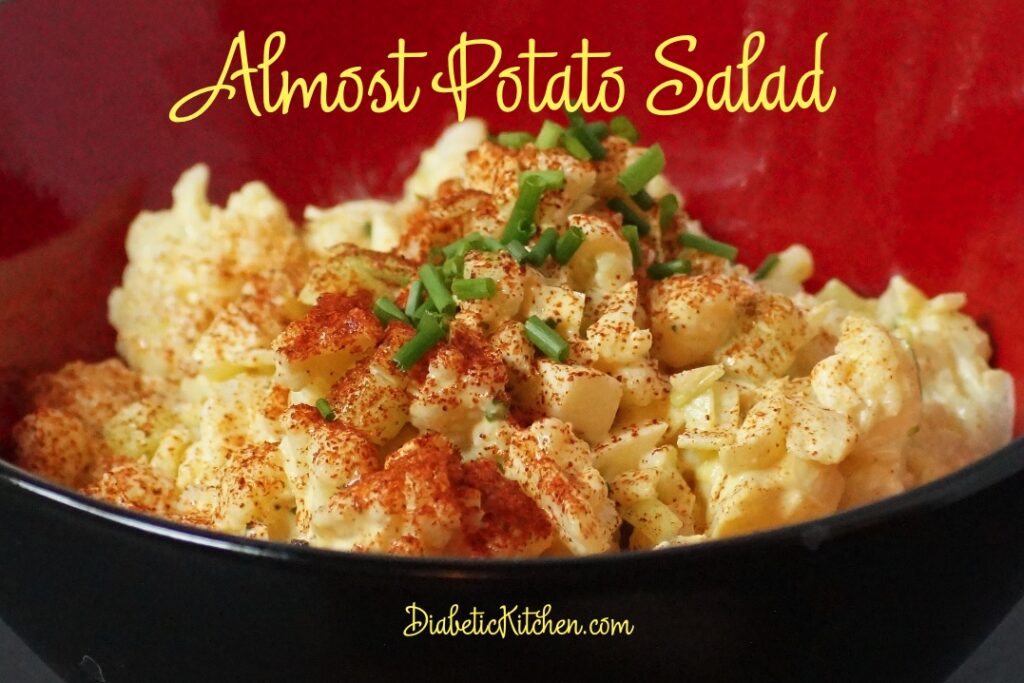 ALMOST POTATO SALAD
INGREDIENTS
3 cups cauliflower, (approximately 1 med/large head)
6 hard-boiled large eggs, chopped (8 small/medium)
2 stalks celery, finely diced
½ leek,chopped
½ cup mayonnaise
1 Tablespoon yellow mustard
½ teaspoon kosher salt
¼ teaspoon black pepper
¼ teaspoon garlic powder
Paprika, for garnish
Fresh chives, chopped, for garnish
METHOD
Bring a large pot of water to boil over high heat. Meanwhile chop the large cauliflower into small pieces. When water comes to a boil place the cauliflower into the pot.
Cook until tender, approximately 6-8 minutes. When tender, drain and immerse in an ice water bath to stop the cooking process. When cool, drain again, place on towel and pat dry. If you don't you will have a very watery salad. I know this from experience!
In a bowl combine all the ingredients except for the paprika and chives. Add the dry cauliflower and mix gently. Taste and adjust the seasonings to your taste. If you like more mustard, add it.
Place in refrigerator to chill for an hour. Before serving sprinkle with the paprika and the chives.
DK NOTES
You can steam the cauliflower but it will have more of a cauliflower taste as it seals the flavor in instead of washing away the flavor and of course some of the nutrients! Your choice.

I cut each stalk of celery into 3 to 4 long strips and then cut all of them together into little dices.

I cut the leek in half after I cut the green top off. Then I cut that piece into thirds and then cut the thirds together into small pieces.

If you have garlic chives in your garden use those for garnish and add a teaspoon in the salad too.

You can use regular paprika or smoked paprika. Your choice.


NUTRITIONAL INFO
Calories 159 |Fat 13g |Carbs 4g |Fiber 2g |Protein 6g