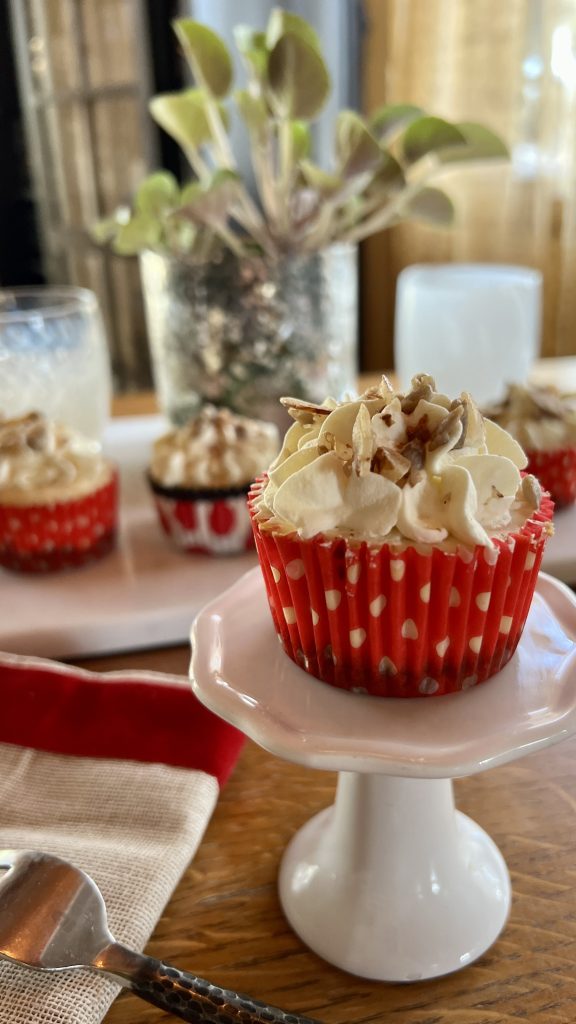 One bite and you and your guests will say "oh, wow.  OH, WOW!"
Run don't walk and get our new Maple Nut Granola Cereal and make this for a special occasion.  Or any day for that matter.
Diabetic Kitchen Maple Nut Granola Cereal
Having come back from a trip to Vermont, maple syrup was on my mind and since our new granola was ready for consumption I just had to try and make a sweet treat that was unbelievably decadent.  This will do it.
Yes, I did use some Maple Syrup.  It didn't impact the diabetics and gluten intolerant guests that taste tested this for me.  If you feel you just can't add that then add more Maple Extract.  I would start with an additional 1 teaspoon and taste it.  You will also need to add more Sweet Zeroes to compensate for the Maple Syrup sweetness.  Start with 2 Tablespoons.  Then taste and adjust both Sweet Zeroes and Maple Extract to your taste liking.
You will not believe how delicious these are and only 6g net carbs for each mini cheesecake.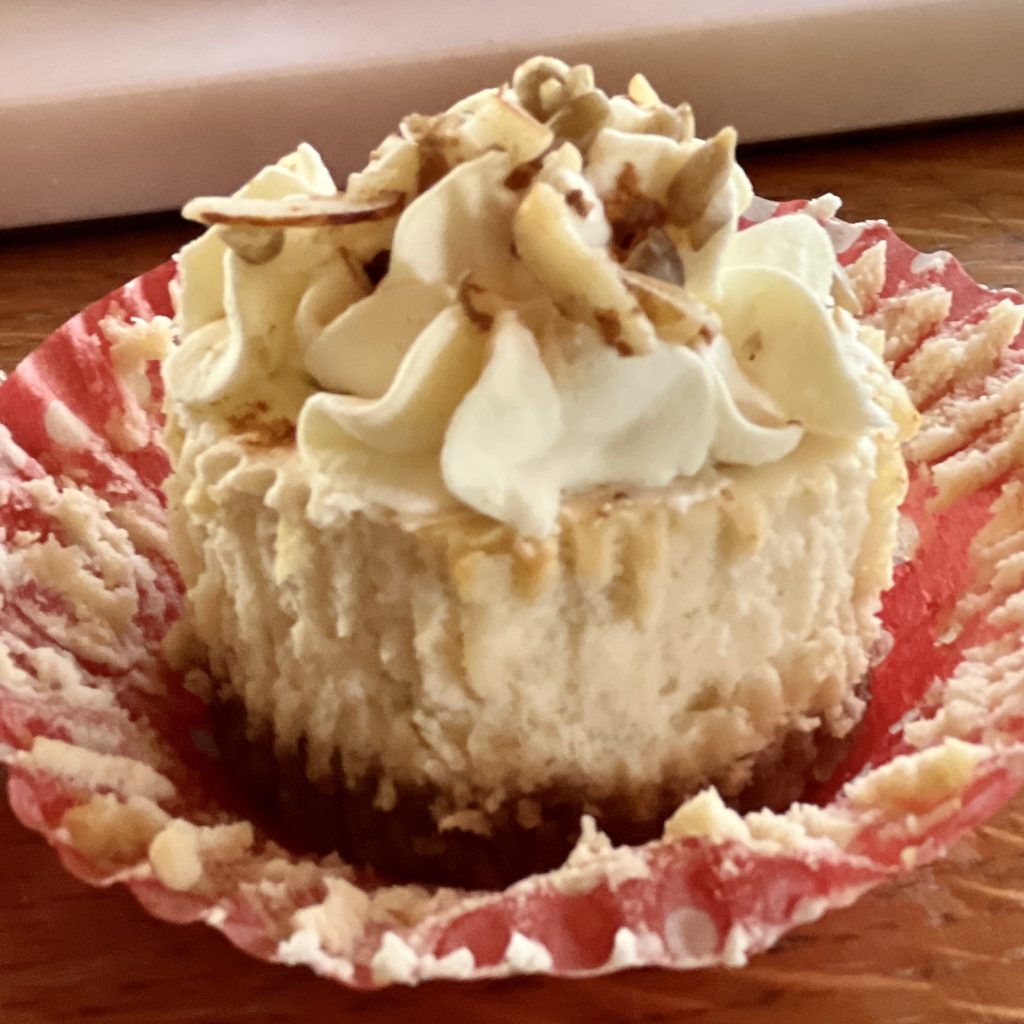 Maple Nut Mini Cheesecakes
INGREDIENTS
FOR THE CRUST
1 cup Diabetic Kitchen Maple nut granola, separated (see instructions)
¼ cup walnuts toasted and cooled
¼ tsp salt
3 TBL unsalted butter, melted
CHEESECAKE
2 bricks cream cheese, softened
2 ½ TBL Sour cream
½ cup +1 TBL Diabetic Kitchen Sweet Zeros
2 tsp vanilla
1 large egg, room temperature
1 egg yoke, room temperature
3 TBL maple syrup
¾ tsp maple extract
¼ tsp cinnamon
¼ cup heavy cream
1 tsp flour
TOPPING
¾ cup Heavy Whipping Cream
¼ tsp Cinnamon
Maple Granola cereal, separated (see instructions)
METHOD
FOR THE CRUST
• Preheat the oven to 350 degrees (F). Line a 12-cup muffin tin with paper liners.
• Measure ¼ cup walnuts to pan and toast on the stove or in the oven. Set aside until cooled.
• Measure out 1 cup or more of granola, pour on a plate and remove all the puffed balls. Put the puffed balls back in measuring cup and continue adding more puffed balls until you have about ⅓ cup. This is going to act as your traditional graham cracker crust
• Now take some of the separated granola and put some that will work well as the sprinkled topping of your finished mini cheesecakes into a small bowl and set aside. (Approximately 2 TBL). Do not have any of the puffed balls in this small bowl.
• To the ⅓ cup of puffed balls you can now add some of the separated granola until you have 1 total cup.
• In a Nutribullet, grind the 1 cup of Maple nut cereal and toasted/cooled walnuts.
• In a large bowl combine the ground granola and walnut mixture, salt, and melted butter. Using a rubber spatula, stir well to evenly combine. Divide the filling evenly among the prepared liners, adding about 1 tablespoonful to each cup. Press the crust down firmly into an even layer (You can use the back of a spoon to do this or a mini spatula or a wooden mini muffin press).
• Bake in the preheated oven for 5 minutes then remove from the oven and set aside to cool.
• Reduce the oven temperature to 300 degrees (F).
• Now it's time to make your cheesecake filling.
FOR THE CHEESECAKE AND TOPPING:
• In a large bowl, using an electric mixer, beat the softened (softened is key) cream cheese, sour cream, until well combined and very smooth.
• Add in the Sweet Zeroes, maple syrup, maple extract, cinnamon and vanilla until incorporated, scraping down the sides and bottom of the bowl as needed.
• On low speed, add in the egg and egg yolk and beat until just combined. Do not over mix.
• On low speed, beat in the flour, and heavy cream, just until combined.
• Using a large scoop (mine will hold 3 tablespoons), divide the filling evenly among cups, scooping it on top of the prepared crust layer. Lift the muffin tin and tap gently back on the counter to get the filling to distribute evenly in the muffin wells. You may have to go back and top some of the wells with more filling. The molds will be very full.
• Place the muffin tin into the preheated oven for 18 minutes, then turn off the oven and leave the door closed for another 10 minutes.
• Remove the pan from the oven and place the pan on a wire rack to cool completely. Once cool to the touch, place the pan in the fridge to chill for at least 3 hours.
• When you are ready to serve, top with whipped cream and cinnamon, garnish with the reserved Maple Nut Granola and then sprinkle it all lightly with cinnamon.
• Enjoy!
Yield 12 mini cheesecakes
DK NOTES
NUTRITIONAL INFO
Calories 266 |Fat 25g |Carbs 8g |Fiber 2g |Sugar 4g |Protein 5g

Without Maple Syrup
Calories 253 |Fat 25g |Carbs 5g |Fiber 2g |Sugar 2g |Protein 5g