If you are like me the weather is too hot for a hot Drinking Chocolate.  But the weather is perfect for one that is frozen!  Yes, frozen hot chocolate is the perfect answer.
How can something hot be frozen?
It's simple! You can use Diabetic Kitchen Drinking Chocolate for a that gourmet and decadent hot beverage and just turn it into a slushy frozen treat!
Oh, and did we mention it's guilt free.  Just 2 net carbs!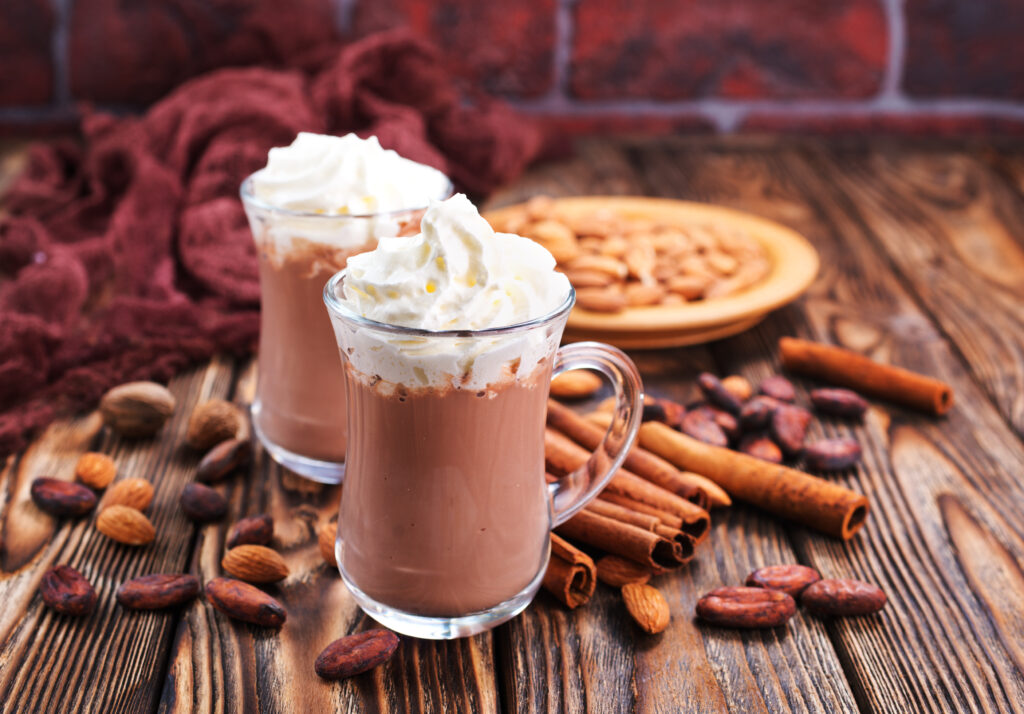 Depending on the blender you have and the ice you have available will determine what you will do.  If you have a high-powered blender like a Vitamix then ice cubes from your freezer can be used. If you have a low powered blender like a Nutribullet then crush your ice first.
Keep some glasses in your freezer ready to use and that will keep your frozen hot chocolate stay cold and slushy longer.
Get creative.  So many ideas for a mix in and make your frozen treat even better.
For a mocha add espresso powder or a room temperature shot of espresso.
Spice ideas:  Salt, just a pinch will amp your chocolate flavor.  Cinnamon just delish.  Want it hot… try a pinch of Cayenne Pepper.
Extracts can be fun too.  Vanilla or peppermint extract will be a favor boost.
How about Peanut butter, Almond butter or a few slices of a frozen banana?
Let us know your favorite add in's for our Frozen Hot Chocolate.

Frozen Hot Chocolate
INGREDIENTS
8 oz of whole mile or almond mix
2 cups crushed ice
Whipped cream, optional
Drinking Chocolate for garnish
METHOD
• Pour the milk into a blender or nutri-bullet. Add the Diabetic Kitchen Drinking Chocolate and crushed ice.
• Blend or pulse at low speed for a few seconds. Then increase the speed to high and blend until the ice is finely crushed.
• Pour into a chilled glass and top with whipped cream and sprinkle with drinking chocolate.
DK NOTES
NUTRITION:

Calories 25 |Carbs 2 |Fiber 5g |Protein 1g
Note:
Help your blender by putting your ice into a zip top bag and break into pieces if your ice maker does't have a crushed feature.
Whipped Cream: 
1/2 cup heavy cream and 1/2 tsp vanilla, 1 ½ tsp Diabetic Kitchen Sweet Zeros.  Sometime I add a sprinkle or two of cinnamon for a twist.  Great with our frozen hot chocolate.