Seriously good, low carb rolls that are a chameleon! They can be plain, sweet or savory! Tori got an itch to make these and we were surprised at how good they were fresh out of the oven with a pat of butter! Yes we did! That's why there are only 4 in the pictures!
Turns out versions of these rolls are all over the web and the story goes that they were made by mistake.  While they are not "exactly" like bread because they are a little thinner and a little spongier. But oh what a great option. So if you have been depriving yourself of bread because of the carbs or gluten then you will be happy to use devour these guilt free.
While we eat with our eyes first, (they look like a sandwich thin), they do not disappoint in the taste department either. They actually are light as air and neutral in flavor, which makes it a blank canvas for the cook. Keep with plain or top it with a little sesame seeds for your burgers or sandwiches before you bake it.  Toast it or not.  Be creative.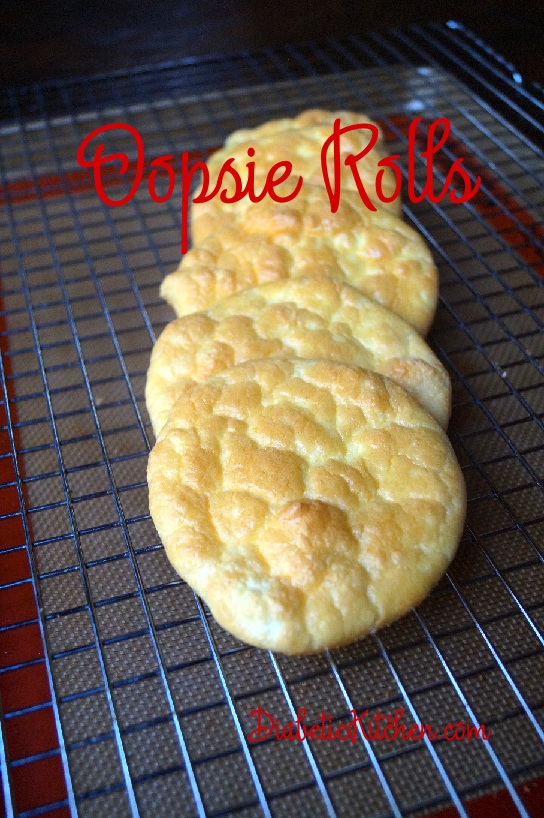 Make it with some chives and cheese for a savory breakfast side.
Want it sweet; add a little cinnamon and liquid stevia and you have the perfect way to enjoy dessert. Top it with a little whipped cream and berries.
Indulge guilt free.

Oppsie Roll
INGREDIENTS
3 large eggs, separated
3 ounces cream cheese (Do not soften)
⅛ tsp. cream of tartar
⅛ tsp. salt
METHOD
Preheat oven to 300 degrees F.
Line cookie sheet with parchment paper or use a Silpat liner.
Separate the yolks and the whites. Using a mixer, in a metal or glass bowl, whip the egg whites and the cream of tartar until they form a stiff peak. Set aside.
In another bowl place the yolks and the cream cheese and mix until blended.
Using a spatula carefully fold the yolk mixture into the whites mixture. Be careful not to break down the white mixture. Using the folding technique will help you keep the air bubble in the egg whites.
Spoon the combined mixture onto your prepared cookie sheet making 6 buns. Slightly flatten each mound.
Bake 30 minutes. Let them cool on the sheet for 2 minutes and then remove to a cooling rack to continue cooling.
DK NOTES
- sprinkle sesame seeds on top before baking
- add chives, ham, olives or jalapeños to the yolk mixture and sprinkle with grated cheddar on top before baking
- add savory seasonings to the yolk mixture like dry mustard or dill
- add a few drops of liquid stevia and cinnamon to the yolk mixture for a sweeter flavor
- use two buns per sandwich as they are thin

NUTRITIONAL INFO
Calories 90 |Fat 8g |Carbs 1g |Protein 5g