It's Pumpkin Season! I tested these on my grandkids this weekend and their eyes said it all! When they finished crewing they said "this is the best creation yet MamaLisa!" I might have to agree!
But this healthy treat came with 3 different toppings. After all I had my official taste testers ready willing and able! Everyone had his or her favorite. You probably will too.
So here is how you make the magic happen and your taste buds dance for the holidays and beyond.
Using our Diabetic Kitchen Cinnamon Donut Mix you can make these Pumpkin Spice Donuts.

Pumpkin Spice Donuts
INGREDIENTS
¾ cup dry mix (Cinnamon Donut Mix)
2 eggs
3 TBL Pumpkin Puree
1 TBL Greek Yogurt, (plain and whole milk)
½ tsp Pumpkin Pie Spice
METHOD
Preheat oven at 350 degrees.
Place dry mix in a bowl. Add remaining ingredient. Stir until combined completely.
Prepare donut pan and pipe batter into donut wells. (See below for my preferred donut pan.)
So … now prepare your pan. Even though it's silicone I take my basting brush and dip it lightly into the melted butter and then butter the wells with that ONE dip. Spread it around. It's very light.
Then pipe the batter into the donut wells. My favorite and least messy way to fill those donut pans is by piping the batter. How do you do that? Easy.
After your batter is prepared, you will need a tall glass, a zip plastic bag, scissors.
Place the plastic bag into the tall glass with one corner of the baggie being pointed to the bottom of the glass. You will be filling that corner. Fold the opening back over the edges of the glass. This will make it very easy to fill and you won't have a mess on the edges of the bag because they are folded back out of the way.
Using your mini spatula get all of the batter into the baggie that is in the tall glass. Once filled, bring the edges of the baggie together and squeeze the batter to that one corner. Twist the baggie at the top of the batter so that it will not come out the top.
Now snip a SMALL piece of the corner so that the batter will come out.
Squeeze gently and pipe into the prepared donut wells. You will NOT fill the well. Divide between the 6 wells. If there is some batter left in the baggie, go back and add some to the wells that might not have enough. It will most likely be the first 1 or 2 wells because I tend to be stingy, thinking there won't be enough!
Wipe the top of your pan and you will have easy clean up because drips and butter burn on the top.
BAKE the donuts at 350 degrees for 15 minutes.
Let the donuts sit in the ban for 3-4 minute. Place on wire rack to cool. They are good plain … but if you want to ice them they have to be completely cool.
DK NOTES
NUTRITIONAL INFORMATION
Calories 86 |Fat 5g |Carb 11g |Fiber 8g |Sugar 1g |Protein 5g

If you ice, glaze or sugar the donuts you will need to add that topping nutritional to the totals. The donut by itself is 3 net carbs and tastes great on its own with a cup of tea or coffee!
I use THIS silicone donut pan. (I do not make any money from this link. I just LOVE them.)
I have used others that do not work as well. Why? Because the form that makes the hole in the batter is LOWER than the edge of the pan. So guess what happens? The batter rises while baking and the batter goes over the form and there is no more hole!
These are fabulous because the form is HIGHER than the edge of the pan. Thus you will always have donuts with holes!
Here are the toppings that I made. They can be used on Muffins too.
Pumpkin Spice Sweetener, Maple Cream Cheese Frosting and Maple Glaze.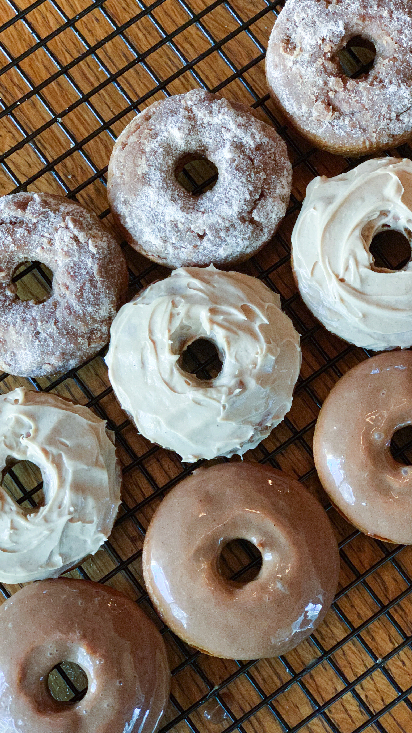 Pumpkin Spice Sprinkle
½ cup Diabetic Kitchen Sweet Zeroes, powdered
½ tsp Pumpkin Pie Spice
3 TBL Butter, unsalted, melted
METHOD
To powder the Sweet Zeroes place in a bullet blender and process until powdered.  Measure and add the Pumpkin Pie Spice to the powdered Sweet Zeroes.  Set aside.
Melt butter into bowl. Set aside.
Dip QUICKLY (or brush butter on donut with a silicone brush) the completely cooled Diabetic Kitchen donut into butter, then into the Pumpkin Spice Sprinkle mixture.   You can do both sides or just one. Place on wire rack.
Maple Glaze
½ cup Diabetic Kitchen Sweet Zeroes, powdered
3 TBL Heavy Cream
1 TBL Cream Cheese
¼ tsp Pumpkin Pie Spice
¼ tsp Vanilla Extract (or Maple Extract)
METHOD
First put Sweet Zeroes into Bullet Blender and process until powdered.
Mix all ingredients.  Use an electric mixer if needed.
Take one completely cooled donut and dip and twirl in the icing. Place on a wire rack.
You can also just drizzle on donuts or muffins.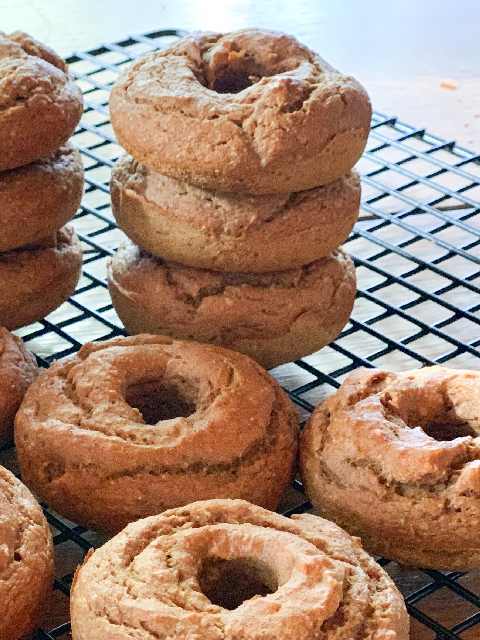 STORAGE TIPS:
Like all of our products they don't dry out easily. If you are going to leave them out, place them on a plate covered with a towel or cloche if you have any left. NOT in a covered or sealed container with toppings.
Store PLAIN donuts in the refrigerator if you put them in a zip lock or sealed container without icing or sprinkles.
They freeze well. (Plain with no topping) Place in a zip lock in the freezer.