For rave reviews … make this easy, tasty appetizer.  It will not disappoint!  The goat cheese is my twist from another recipe that uses 3 of these four ingredients that is a little more complicated yet so worth making. I will share that one later as you will definitely want it for the holidays.
I was heading to a party and wanted to make it and realized no time! I knew that there were a few sun-dried tomato fans coming and wanted something with that ingredient. Besides I was in the major craving zone myself!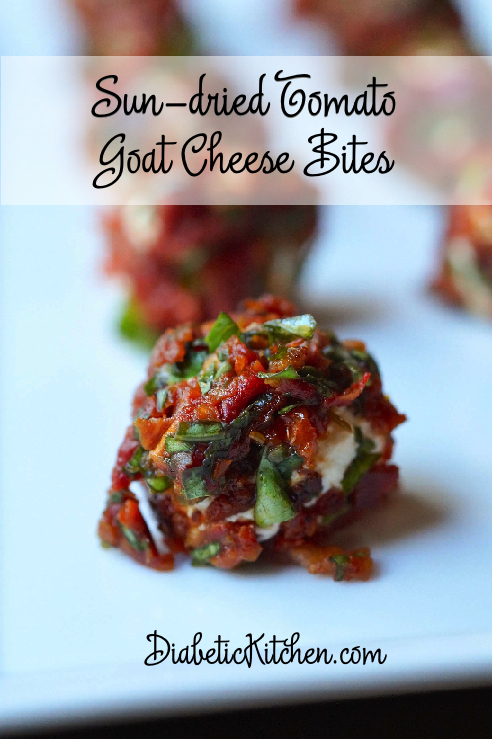 The other recipe called for cream cheese and feta. I decide that instead of mixing the two maybe goat cheese would work instead. I had some and grabbed it and took a bit of cheese with a little SDT and basil and it was good. But it needed an element of surprise and something with a little texture. The other appetizer had a lot more ingredients including pine nuts. But that would not work here and I didn't want it to be an appetizer that needed a cracker. I wanted it to be individual bites.
Looking in my refrigerator and eliminating a lot of possibilities there sat the bacon. Really? No. Really? Why not? So I chopped some slices and cooked it and did my little taste test. Oh, yes. The unexpected. Might have even been better with prosciutto. But I didn't have any in my fridge! So I went with it.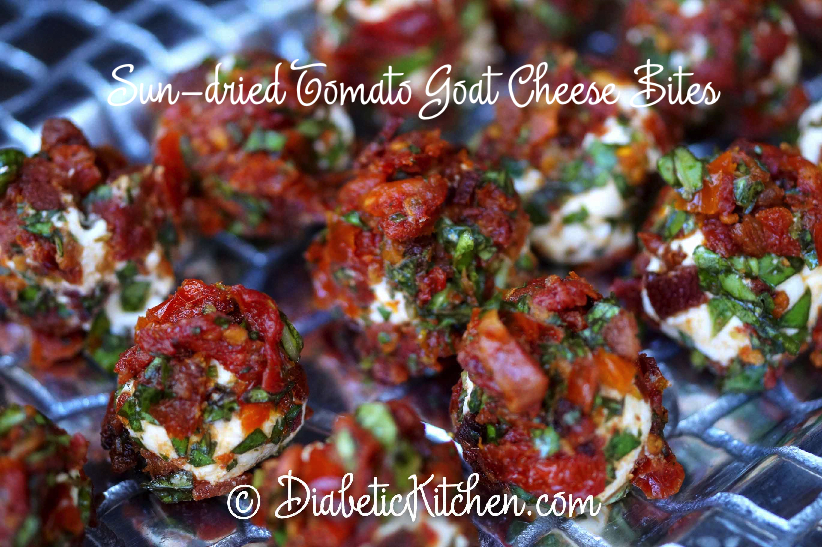 We were off and running.  I figured out a few tricks in the making of these little bites. Don't roll one, coat one and then pick up the teaspoon to repeat. You will have nasty hands and be constantly washing them. Finally I did about 8-10 drops at a time on top of the mixture (limit your cheesy mess on a plate or counter). Then went back and rolled the group at one time and coated them at one time. Less washing. Nice.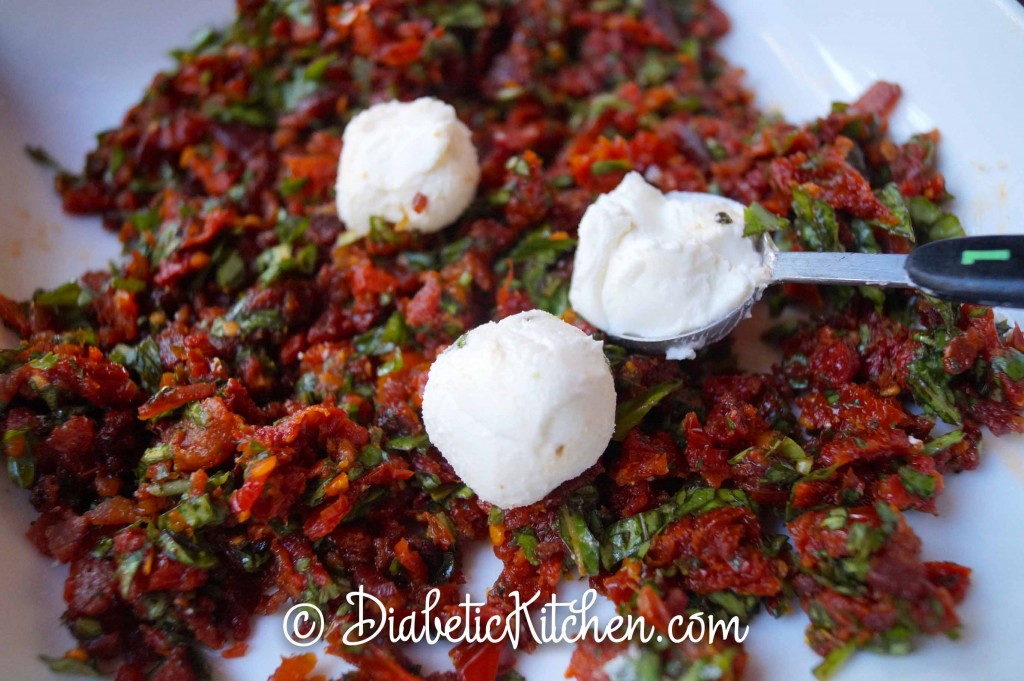 They were a hit at the party. Easy to grab one and go with or without a toothpick. I have even made some and tightly pack them in a glass container and took in on a boat ride. Place it in your cooler and it is ready for a quick picnic on the water!
Want a different twist to your scrambled eggs? Break up two of them and fold them into your scrambled eggs. Seriously delicious.
FOODS THAT HEAL IN THIS RECIPE:
Goat Cheese – Dr. George Haenlein of the University of Delaware points out that the fats found in goat milk products are high in middle chain fatty acids, which are easier for the body to process than those found in cow's milk. Some additional benefits of goat milk cheese is a good source of calcium, protein, vitamin A, vitamin K, phosphorus, niacin and thiamin. It is easier to digest because the fat globules are smaller, resembling those of human milk. It has about one-third fewer calories per ounce of which more than half of those calories are from fat, which is better for the diabetic diet. It is about twice as much protein as well. Because goat cheese contains less lactose than cheese made from cow's milk and contains smaller fat globules, it is typically well tolerated by those with lactose intolerance.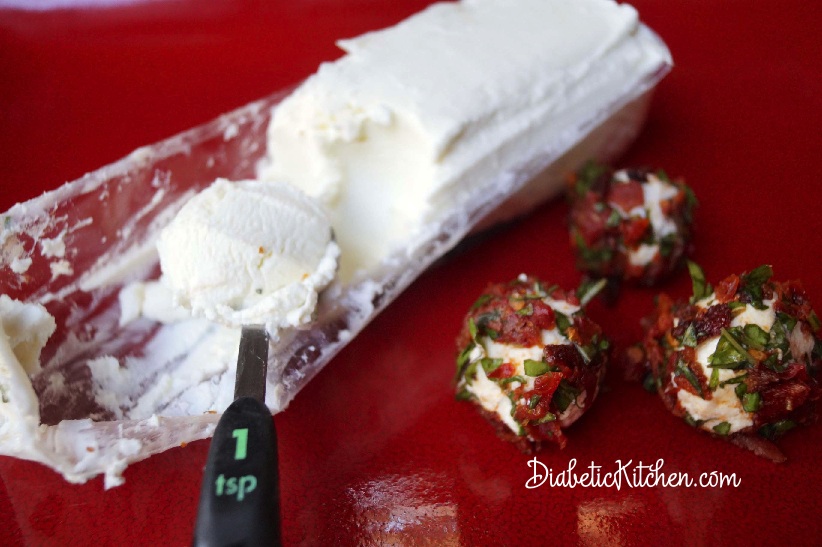 Sun-dried Tomatoes – Whether you make your own or buy them at the store, sun-dried tomatoes are packed with a powerhouse of nutrients that deliver health benefits. One cup of sun-dried tomatoes can provide a substantial percentage of your daily requirements for potassium, thiamine and riboflavin, niacin, vitamin K, vitamin C, vitamin A, lutein, zeaxanthin and lycopene, calcium, magnesium, and phosphorus. It provides nutrients that work as antioxidants, supports heart health, strong bones and good for converting food to energy.
Basil – Basil is an excellent source of vitamin K and manganese; a very good source of copper, vitamin A (in the form of carotenoids such as beta-carotene), and vitamin C; and a good source of calcium, iron, folate, magnesium, and omega-3 fatty acids. Research studies on basil have shown unique health-protecting effects in two basic areas: basil's flavonoids and volatile oils. Orientin and vicenin are two water-soluble flavonoids that have been of particular interest in basil, and in studies on human white blood cells; these components of basil protect cell structures as well as chromosomes from radiation and oxygen-based damage. In addition, basil has been shown to provide protection against unwanted bacterial growth. These anti-bacterial properties of basil are associated with its volatile oils and are considered anti-bacterial. There are more than 60 varieties of basil, all of which differ somewhat in appearance and taste.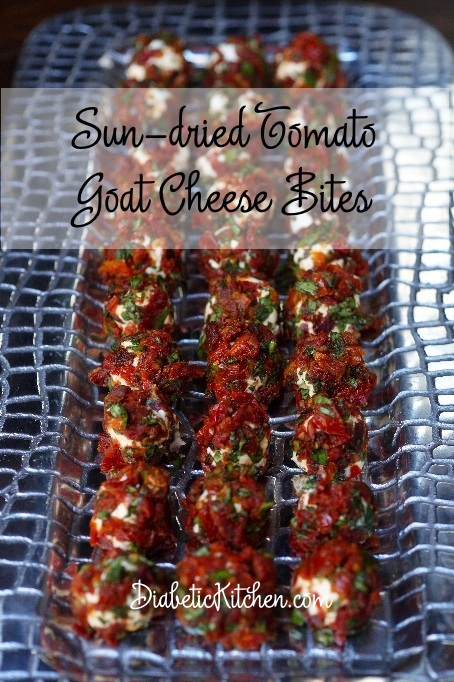 Sun-dried Tomato Goat Cheese Bites
Author:
DiabeticKitchen.com
INGREDIENTS
4 slices of bacon, chopped and cooked
10.5 ounces goat cheese
1 cup sun-dried tomatoes in oil
½ cup fresh basil, finely chopped
METHOD
Slice the bacon into small pieces. Cook till the perfect crisp. Set aside on paper towel to cool and drain. If some of the pieces are still too big break into smaller pieces.
While the bacon is cooking, chop the sun-dried tomatoes fine. Place in shallow dish. Add the finely chopped basil to the sun-dried tomatoes.
Add cooled bacon to the sun-dried tomatoes and basil. Stir till combined.
Using a teaspoon, make little balls of goat cheese using your hands.
Roll the goat cheese ball in the sun-dried tomato mixture, coating the entire ball. Repeat. This will make 30 little bites/balls.
DK NOTES
I have found that as I measure the goat cheese, if I put the dollops (before I roll them) on the sun-dried tomato mixture and continue until I have 8-10 dollops done. Then stop and roll them into shape and then coat the balls in the mixture. You won't have messy hands between making each ball: ie: measure, roll, coat, wash hands, repeat. You will wash your hands less and have more of any assembly line: ie: measure 10, then roll, coat, wash hands, repeat only 3 times!

You don't want them bigger than a rounded teaspoon, as the balance of flavors will not be the same.

You can put a toothpick in them to server or not.

Crumble one or two in your scrambled eggs. Yes I did!

I have made these the day before for a party and they store well. They might store longer but I wouldn't know as they are gone after 3 days! Delish!

NUTRITIONAL INFORMATION:
Calories 106 |Fat 7g |Carb 3g |Fiber 1g |Sugar 2g